Camping Rimouski & Motel de l'Anse is a private company at its customers' service. Located near Rimouski downtown and the Bic park, it's the perfect place for your stay in Lower St. Lawrence. Beautiful land that offers a breathtaking view of the river and its legendary sunsets.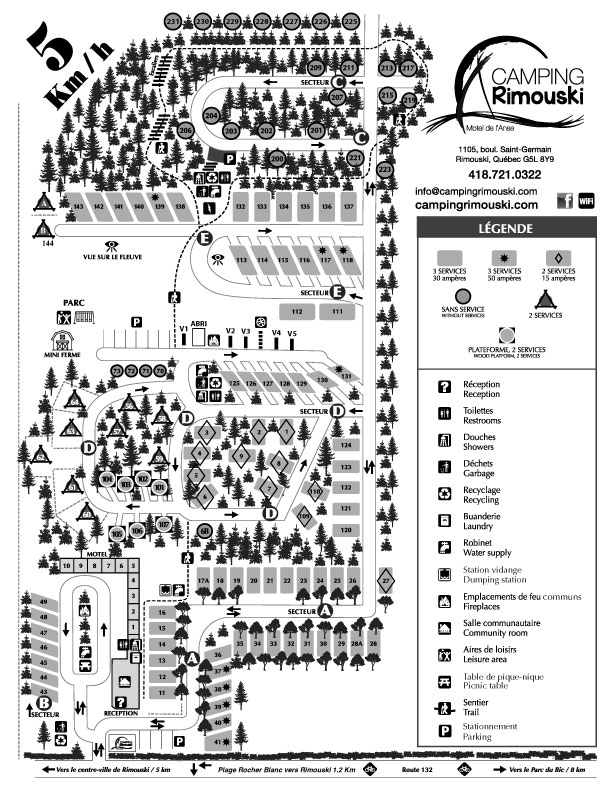 The Campgrounds are made up of 4 separate campsites: 
Sites A & B  are closest to the entrance, near the games room and laundry facilities. A sunny site, and easy to access. For all sizes of RVs. 30-50 amps available.

Site D occupies the middle portion of the grounds. Along with a playground (set apart from the campsite), it has a rustic atmosphere enhanced by a mini-farm and Old West-style wagon. This site has three sections:

Wooded area reserved for tents (with services/on raised wood platforms of grassy lots)

Area reserved for tent-trailers and small Westfalia-type vehicles.

Site E sits on higher ground with a scenic view of the river; several large pull-throughs of 30-50 amps are ideal for large RVs. (note that the sanitary bloc situated between sector C-E is open from June 22th to September 4th, 2018)

Site C is set back from the road, wooded, and reserved for tents (without services). This section is open from June 22 to September 4.
Our team is here to greet you warmly and make your stay a wonderful one.
95% of our clients are travelers
People of all ages and walks of life vacation in Gaspé, Baie des Chaleurs, Prince Edward Island, or the Magdalen Islands, and chose the Bas Saint-Laurent area as their destination! Come enjoy a well-deserved break; lounge in nature's abundance and admire breathtaking sunsets. After a stay with us, you will be invigorated and ready to resume your journey of discovery.